TRUSTEE ED BLAKESLEE TO TAKE OFFICE AS PRESIDENT OF IHL BOARD
3/27/2012 - Jackson, Miss.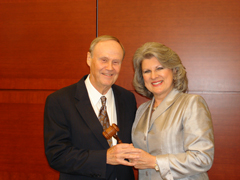 During her tenure as President of the Board of Trustees of the State Institutions of Higher Learning, Robin Robinson has seen a record number of students enroll at Mississippi's public universities, facilitated the collaborative efforts of the universities and the business community in the development of Blueprint 2011, managed the selection of a president of one of the universities, and watched the universities conduct ground-breaking research on a variety of topics, including anti-cancer drugs, nuclear reactor material strength, water quality and the prevalence of cardiovascular disease in African Americans.
Trustee Robinson passed the gavel to incoming President Ed Blakeslee at a Board meeting held today in Jackson. Blakeslee will officially take the seat on April 1.
"I am pleased to follow the stellar leadership provided by Trustee Robinson," said Blakeslee. "I look forward to working with our university leaders, as well as our state and local elected officials, to ensure that our universities provide the highest quality education and best return on investment."
Blakeslee served as Vice President of the Board during Trustee Robinson's term. Trustee Bob Owens will serve as Vice President during Blakeslee's term.
"I have enjoyed leading the Board and working with our university leaders to advance our state," said Robinson, appointed as a Trustee by Governor Haley Barbour in 2004 to represent the Southern Supreme Court District. "Having served with Trustee Blakeslee for several years, I have full confidence that he will be an excellent leader and utilize his experience in the private sector to help us to serve the needs of the students."
Mr. Blakeslee was appointed to the IHL Board of Trustees by Governor Haley Barbour in May 2004. His term will expire in May 2015.
Blakeslee received a bachelor of science in electrical engineering from Mississippi State University and completed accounting courses from the University of Southern Mississippi. He retired as vice president of Mississippi Power Company, where he worked since 1965. He served as vice president of the company from 1984 until retirement. As vice president, he was responsible for power delivery, marketing, customer operations and division operations, and also served as the compliance officer. Prior to his position as vice president, Mr. Blakeslee served as an assistant engineer, manager of financial services, chief accounting officer, and division director.
Before beginning his career with Mississippi Power Company, Blakeslee served in the United States Army.
Blakeslee is a member and past president of the Kiwanis Club of Gulfport. He has served as a member of the adjunct accounting faculty at The University of Southern Mississippi, Gulf Park Campus, past president of the Mississippi State Port Authority at Gulfport, past president of Leadership Gulf Coast and past executive vice president of the Gulf Coast Chamber of Commerce. Blakeslee has also served on the Southern Miss Business Advisory Board, the Mississippi State University Engineering Advisory Board, and the Community Concert Board. He is currently serving as chairman of the Wolf River Conservation Society.
Blakeslee is a registered professional engineer and a certified public accountant in the state.
He is married to the former Marilyn Moore. They have two daughters and three granddaughters.
"Service on the Board of Trustees requires a great deal of commitment and dedication" said Dr. Hank M. Bounds, Commissioner of Higher Education. "We are fortunate to have thoughtful, stalwart leaders such as Trustees Robinson and Blakeslee. I am certain Mr. Blakeslee will be an outstanding leader, just like Ms. Robinson before him."
Ms. Robinson, whose term expires in May 2015, serves as the Director of Organization Development and Corporate Communication at Sanderson Farms, Inc., a position she has held since 2000. She has worked for the Laurel-based poultry company in a variety of roles since her graduation from the University of Southern Mississippi in 1978. She holds a bachelor's degree in business administration with an emphasis in accounting from Southern Miss.
Robinson is very active in the community and across the state. She serves as chairman of the M.B. Swayze Educational Foundation and serves on the Board of Directors for the Jones County Junior College Foundation; the United Way of the Pine Belt; and the American Lung Association, Mississippi Chapter. She serves on the University of Southern Mississippi Business Advisory Council and is a Governor-appointed member of the Mississippi Supreme Court Judicial Advisory Student Committee. She also served on the Governor's Commission for Recovery, Rebuilding and Renewal after Hurricane Katrina struck the Mississippi Gulf Coast in August 2005.
Photo: Laurel resident Robin Robinson, (right) outgoing President of the Board of Trustees of the State Institutions of Higher Learning, passes the gavel to incoming President Ed Blakeslee of Gulfport.
###
The Mississippi Board of Trustees of State Institutions of Higher Learning governs the public universities in Mississippi, including Alcorn State University; Delta State University; Jackson State University; Mississippi State University including the Mississippi State University Division of Agriculture, Forestry and Veterinary Medicine; Mississippi University for Women; Mississippi Valley State University; the University of Mississippi including the University of Mississippi Medical Center; and the University of Southern Mississippi.