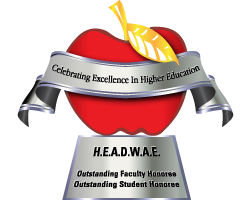 The Higher Education Appreciation Day, Working for Academic Excellence (HEADWAE) was established by Mississippi Legislative Resolution to annually honor the academically talented students and faculty members of Mississippi's higher education institutions who have made outstanding contributions in promoting academic excellence. The Appreciation Day, hosted by the Legislature each February in Jackson, is the Legislature's way of saying "thank you" to these students and faculty for their commitment to the future of Mississippi.
On Appreciation Day, the Honorees are invited to the State Capitol where they are welcomed by the Lieutenant Governor and recognized in each chamber of the Legislature. A luncheon follows wherein each student and faculty honoree is recognized by name in front of their guests, institution leaders, corporate sponsors, and legislators.
The goal of the Appreciation Day is to encourage excellence among those involved in higher education as a way to further leadership, increase knowledge across the broad spectrum of education, promote good citizens capable of thriving in today's society, who are prepared to meet future challenges. To this end, one student and faculty honoree are annually selected from each of the thirty-four public and private member institutions of the Mississippi Association of Colleges to participate in the Appreciation Day activities. Additionally, the generosity of the corporate sponsors provides for each honoree to be accompanied to the luncheon by two guests.
The 31st Annual Higher Education Appreciation Day—Working for Academic Excellence (HEADWAE) program is scheduled for Tuesday, February 20, 2018, at the Jackson Marriott Hotel.
Sponsors